So I have purchased a few cookbooks lately - believe me, I hesitated, since I get mildly depressed when I see so many yummy tofu and lentil and bean dishes. It's the same feeling I got back in the mid 90's when there were few vegan cookbooks, and I had to sort through vegetarian cookbooks with all their egg and cheesiness to find a few vegan recipes (no Internet widely available then like there is now!).
But I was ultra-pumped for Chloe's Kitchen. I have been a follower of hers since she won Cupcake Wars, and have tried nearly everything on her website. Her recipes are simple and effortless, so I expected the same when I heard she had a cookbook coming out.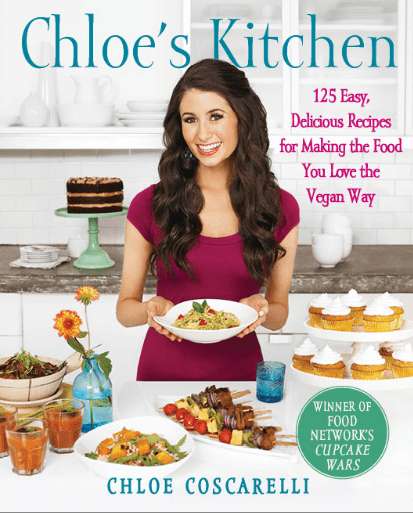 Boy was I right! And the best part is...we can eat MOST of what is in the book! It's so exciting for me since many recipes are soy-free – just like my beloved Isa was one of the first to label recipes as being soy-free (I would be totally asking for too much for legume-free, since what vegan doesn't eat those? Grrr...). She also has a ton of tips for making stuff ahead of time, which is really convenient. There are a ton of pictures which is really inspiring. Somewhere (the ppk maybe?) someone made a comment that there are too many pics of Chloe – I think not. I love her big grin! I also love this dress:
I wish to God that I could wear something like this and actually have somewhere to go in it or host a fabulous appetizer party...but who am I kidding?
Anyways...So here is a synopsis – most with pics – of all the stuff I've made so far:
Garlic White Bean Dip – OK, this is not legume-free. But I was used to making this on a daily basis as a snack after discovering the recipe on her website for
Pizza with Roasted Apple, Butternut Squash and Caramelized Onions
. It's to die for! I think she used to make it with ½ cup of olive oil, so that's what I do since I'm not overly concerned with fat – hey, it's something we can eat so why limit it!
Cheesy Broccoli Soup – I didn't bother with the bread bowl since I'm sure the kids would have tried to eat that with the soup still inside. It was pretty good. I pureed the crap out of it hoping it would get the kids to eat it. So mine looks nothing like hers - as a result there is no pic. But tasty!
Warm Spinach and Artichoke Dip – Calls for tofu, I used Bryanna's Hemp Mayo instead. Worked great! Very creamy.


Garlicky Greens – I used kale – these were so yummy! If I wasn't so busy putting handfuls of kale in our morning smoothies, maybe I would have some kicking around to make this more often! But I can't fit anymore kale in the fridge without it looking like an overgrown jungle. I have them pictured below with the Seitan Scallopini.
Grilled Pesto Pizza with Sweet Potatoes, Kale and Balsamic Reduction – O. M. G. Making this felt like I was a gourmet chef in a fancy restaurant. First of all, I love Chloe's pizza crust recipe. It is foolproof and I use it to make every pizza (except I use half AP and half WW). Second, I plan on making our weekly pizzas on the BBQ during the summer to avoid the oven from going on – the flavour these took on was incredible. Third, the toppings on this are so scrumptious. I could have licked my plate (oh wait, I did...good thing we weren't actually in a fancy restaurant!). The balsamic reduction was so good (if you make it, don't leave it unattended like I did – my first batch burned), and I could see myself using this on some other dish.
Moo Shu Vegetables with Homemade Chinese Pancakes – Another hit! This was especially easy but you would never know. Featured a great way to use bagged coleslaw mix for something other than coleslaw...I didn't know that was possible! The pancakes were super cool. I will make those using canola oil instead of sesame to make homemade tortillas since we can't buy storebought ones. I used seitan instead of the tofu. Ash begged for more!
Avocado Pesto Pasta
– Another recipe from her website. So ridiculously easy and delish. The kids LOVE this one. I use hemp seed instead of pine nuts. Tastes yummy! No idea how I don't have a pic of this since I tweeted about it some time ago.
Best Ever Baked Macaroni and Cheese – Really good, but I made it with canola oil so I wonder if it didn't have that 'buttery' taste as a result. Now that I have me some deodorized cocoa butter and have made a big batch of 'Buttah', I'll be making this again. It was a great to be able to make this in the morning for Kyle to pop in the oven while I was at my BodyPump class.


Mongolian BBQ Seitan – Ridiculously good! Since every hoisin sauce I've seen has soy, I made up my own...I will try to find it but it was modified off the Internet. I also omitted the chili garlic sauce (cross contamination with soy worries) and the snow peas and used bok choy (can't do legumes...I totally thought it was a vegetable! Who knew?). Even with my changes it was great, so I'm sure the original is fab!
Seitan Scallopini – Of course I have to modify! But this time I didn't modify the ingredients– just the texture! Ash won't touch mushrooms with a 10-foot pole so I had to puree the sauce. Sure, it didn't have the nice texture that I'm sure was intended, but it was delish. And super easy!
Tropical Island Kebabs with Cilantro Rice – Another hit! I made kebabs last summer and without this sauce, they were lame. She recommends her Sweet and Sour Sauce, which is so easy, and it tastes great here. The rice was quick and easy to make, and looked and tasted like there was way more effort involved! I just omitted the slivered almonds since we can't do nuts.
Baked Sprinkled Donuts – Yummy! I need excuses to use my doughnut pans so naturally I had to make these! Since I seem to modify every recipe, I cut the salt in half. I also learned to decorate the 'pretty' side. Fun!
And finally...
Chocolate Molten Lava Cakes with Warm Raspberry Sauce – Seriously. You need to make these. Ridiculously easy and look so special! I originally used teacups to serve as the ramekins, but I went to IKEA to buy six real ramekins just for this recipe. There are so many cool things – yes, the melty chocolate in the middle is way cool, but I love that this is a make-ahead dessert that goes from freezer to oven to being cooked in about 20 minutes! So great when you need to serve something fancy and don't have the time or energy to do something! I just popped the frozen treat in the oven, turned it on and let it bake. I actually made the raspberry sauce and I'm glad I did. I keep it in a squirt bottle in the fridge – it dresses up not only this dessert, but it's great to drizzle on pancakes, decorate a cookie quickly or for a cupcake drizzle. I've followed the same instructions to make a strawberry sauce too – I just pureed the strawberries before adding them to the saucepan (and didn't have to put them through a sieve afterwards like I did for the raspberries).
Here are some freebie recipes from her website:
Vegan Cookie Dough Truffles
- Make these now. For next Easter, I will be shaping these into egg shapes, without the chocolate chips inside, and pretending they are vegan Cadbury eggs!
Vegan Goldfish Crackers
- I have a picture of these on my phone, but mobile blogger is being a royal pain right now (it's taken me about 2 1/2 hours to get this post up since my phone and PC are being really irritating). I have to craft these fast, since they get eaten fast, so I roll the dough onto parchment, slice lengthwise and widthwise with a pizza cutter and carry the sheet of parchment onto my cookie sheet. As they bake, they separate. Tastes the same! Just really quick. I used olive oil for these, since I hadn't made Buttah, but now that I have some, I will try it that way! I also sneak in extra nooch.
In all, if you haven't already bought this book, do so! From what I understand it's everywhere – even Walmart USA! I would check here, but walking into that store is like the equivalent of walking into hell for me.